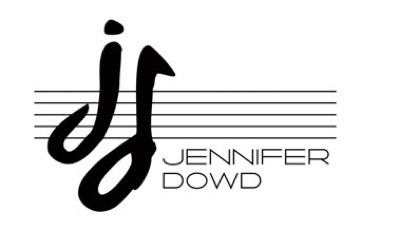 The Jennifer Dowd Vocal Studio is a thriving vocal pedagogical environment for students of all levels and ages. The studio boasts of many regional and state pageant winners, theatrical and vocal competition winners, professional vocalists, as well as many emerging recording artists.
The technique used in the studio is based on Italian Bel Canto technique mixed with other pedagogical philosophies to produce a natural, "sing as you speak" method (a.k.a. speech level singing). This technique helps the singer find ease in producing sound without strain, and aids in sustaining breath support. Once mastered, students find this technique is easily transfered to any style of music.
Although vocal technique is the primary focus in the studio, students also work on acting and staging aspects of their selections.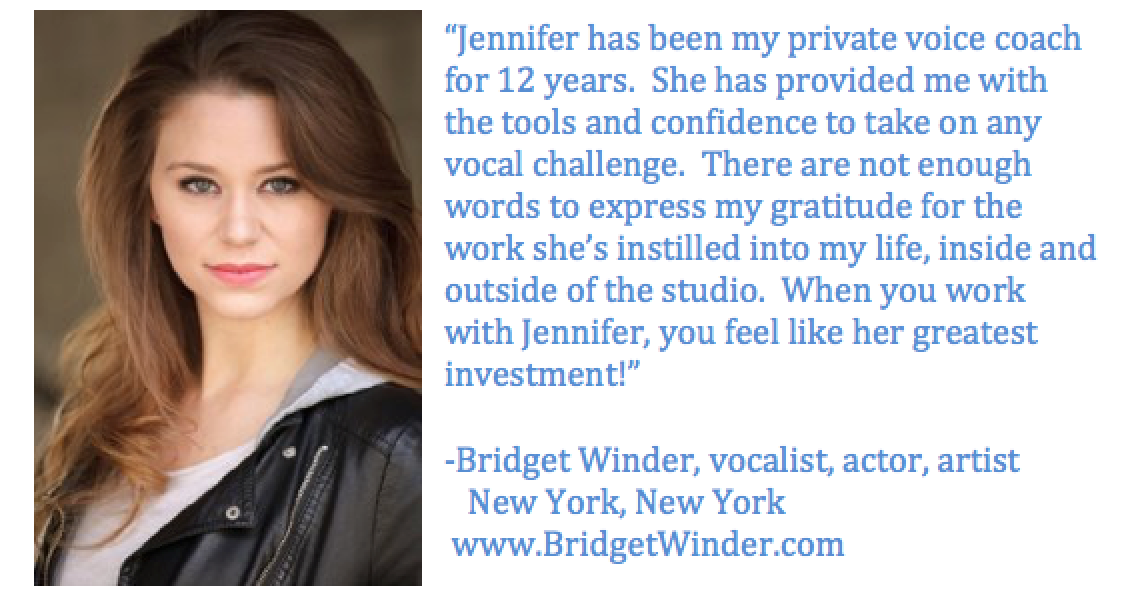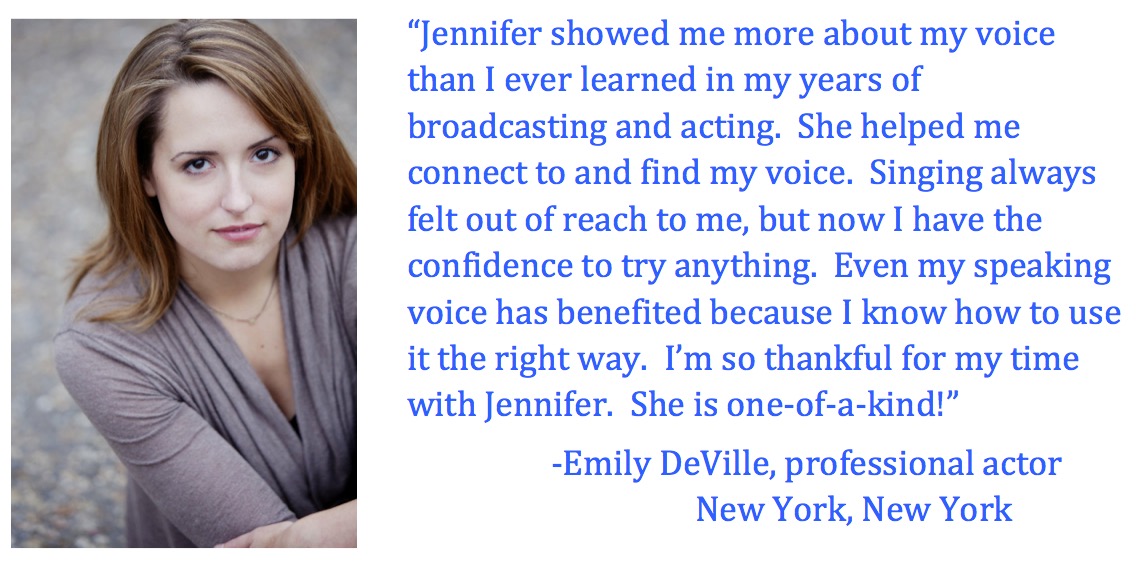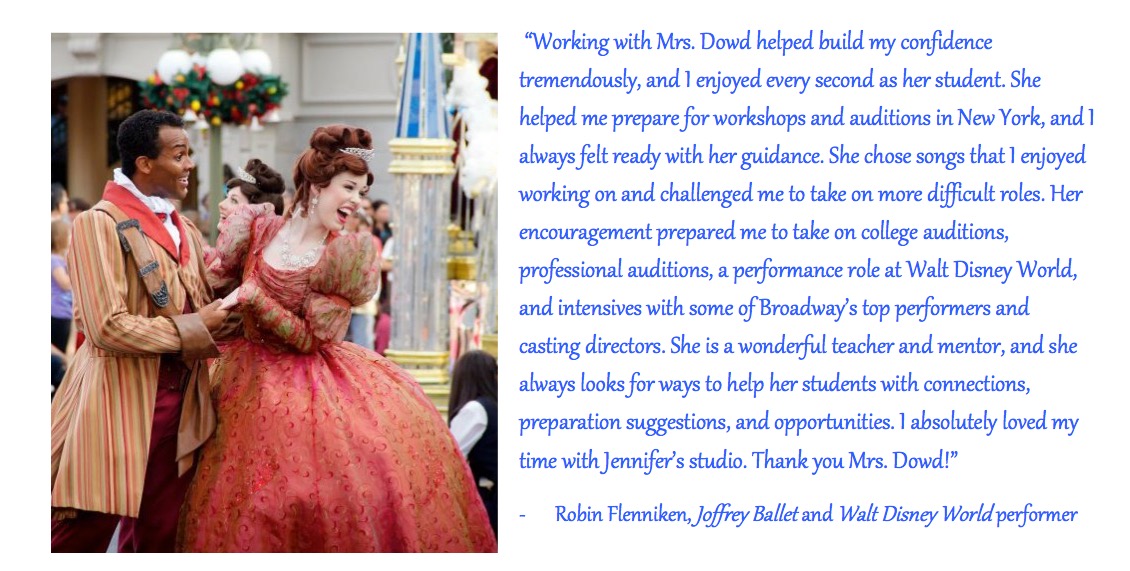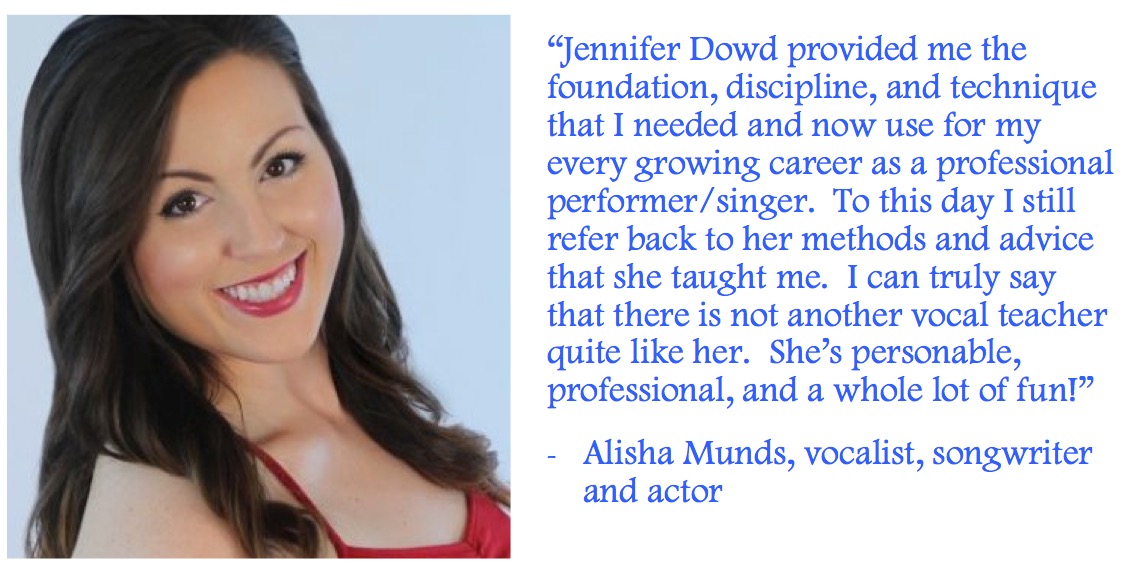 * Aspiring singers and actors who wish to learn vocal technique
* Professional singers, actors and news anchors use lessons to maintain and better their voice
* Singers who need help with staging/acting
* Pageant participants who sing as their talent
* Community singers who seek more ease in vocal production
What age is best to begin vocal lessons?
While the popular age bracket is pre-teen, any one who is "vocally active" should consider lessons. Good vocal models are very hard to come by in today's entertainment market, and misconceptions abound when it comes to producing a healthy, individual vocal tone. Many poor vocal habits are caused by the absence of professional guidance when the student is involved in many singing activities, particularly music theater youth groups.
How long does it take to see results?
Each voice is unique and individuals experience vocal change, differently. Results will vary from student to student. Other variables such as frequency of lessons, practice habits and vocal use, also play a part in how the student will progress. To better vocal technique and agility, lessons should be considered as a long-term investment in your education and craft.
What is special about the Jennifer Dowd Studio?
As a member of the studio, not only will you receive pedagogical and theatrical guidance to make you a better vocal performer, but you will also be considered for many regional performance opportunities not extended to other studios. Studio members have been invited to perform at the opening of the Karpeles Manuscript Museum, Centenary Summer Band Concert Intermission Series, Fox 33 Network's Sounds of the Season / Gleeful Christmas, and the city wide 4th of July celebration RiverBlast hosted and televised by KSLA Channel 12 and KTBS Channel 3, just to name a few. Additionally, students who are interested in the entertainment business will be introduced to industry professionals who can guide them on a successful career path. Naturally, all members are kept informed of all relative auditions and events for which they would be eligible.
How do I request a vocal lesson with Jennifer Dowd?
Please send your inquiries, along with your name and phone number(s), to Mrs. Dowd by e-mailing directly to jennifer@jenniferdowd.com, or you may submit your information using the field below. Upon receipt of your inquiry, you will be contacted by phone or e-mail to discuss lesson availability and to answer any questions you may have.
I. All vocal lessons will be paid by the month at the first lesson of the month.
a. The private vocal lesson fee is currently $50 per hour for members of the studio; $75 per hour for non-members*; $75 per hour for Artist Deveopment
members (see the Artist Development page for more details).
b. Lessons are offered once per week (4 lessons each month**) or once every-other week (2 lessons each month**).
c. Please check how many weeks there are in a month to determine the fee owed. On occasion, there are five weeks/lessons within a month.
d. Members will not have regularly scheduled voice lessons during national or school holidays, unless a voice lesson is specially requested and
reserved during these dates. If a voice lesson is scheduled during a holiday, prepayment of tuition is necessary and is non-refundable.
II. Members of the studio will be charged for the hourly lessons reserved for them each month, whether they are attended or not. (This includes sickness/hoarseness or any other scheduling problems that might arise, with the exception of death in the family.)
a. Members should attend all lessons in reasonably good vocal health.
b. Two "no shows" to a lesson time without contacting the instructor will result in the member being discharged from the studio.
c. Members (or their financier) are financially responsible for any requested scheduled studio/instructor time.
d. Rescheduling of a lesson is at the invitation of the instructor, and may be offered on the occasion of performances or competitions conflicting with a
perpetually scheduled time slot.
e. If it is necessary for the member to be absent from a lesson, the instructor should be notified by cell phone or e-mail as soon as possible.
f. If it is necessary for the instructor to miss a lesson, the tuiton for said lesson will be reimbursed or credited toward fees for the following month.
g. Any exception to this rule will be made on a case-by-case basis.
III. Holiday/Weekend (Friday after 6 p.m. - Sunday) & Additional Service Rates
a. Vocal Lessons: $100 per hour
b. Pageant sound checks: $75 per hour (within 20 miles of Shreveport); minimum $75 fee.
c. Recording Studio: $100 per hour or $500 per day (A flat fee for longer projects may be negotiated.)
d. Repertoire research (independant of lesson time) $50 per hour
e. Vocal sheet music (arranging): Starting at $300
IV. Performance track editing (of existing tracks) for pageants or performance will cost a minimum of $50 per song, or $50 per hour. The fee for the construction of a performance track will vary based on the project.
V. The vocal instructor will not be held accountable for vocal problems incurred by any member of the studio due to misuse of their voice.
a. Cheerleading and other vocally harmful activities are not endorsed by the vocal instructor.
VI. Members of the studio will benefit from performance, competition, and audition opportunities based on their eligibility and accomplishment, and will be apprised of such events as they arise.
VII. Members of the studio should consult the instructor before entering a competition, auditioning, giving a public performance or indulging in any other activity that represents or showcases their vocal talent, especially when they are advertising themselves as a representative of the studio.
a. Members should consult with the instructor on the proper repertoire for an audition or competition.
b. Public vocal performances of all types should be cleared with the instructor well in advance of the event.
c. Any member who fails to consult with the instructor regarding repertoire for auditions/competitions, repertoire changes for auditions/competitions, does not make the instructor aware
of a public performance, or performs repertoire unapproved by the instructor will result in the member being discharged from the studio which will immediately terminate any further
contract obligations and forfeit any reimbursements of invested funds in member fees or other services.
** "Members" are clients in good standing who attend regular monthly lessons. "Non-members" are clients who do not attend lessons on a monthly/regular basis.
** Number of lessons per month will vary according to the number of weeks given in an month; sometimes we may have 5 Tuesdays versus the normal 4.