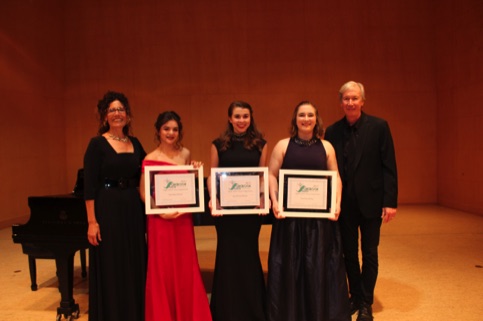 Two Studio Members Score Winning Places:
Songbook South High School Vocal Competition: Great American Songbook Edition
Studio members Kate Howell (First Place) and Arianne Graves (Third Place) score wins in the September 2017 Songbook South High School Vocal Competition: Great American Songbook Edition. Both will receive scholarships to apply and attend (upon winning a semi-finalist spot) The Songbook Academy and High School Vocal Competition hosted by Michael Feinstein in Carmel, Indiana, July 2018.
(Pictured from L to R) Broadway star/clinician Naz Edwards, Arianne Graves (Third Place), Sarah Katherine McCallum (Second Place), Kate Howell (First Place), Award-winning NYC pianist Daryl Kojak.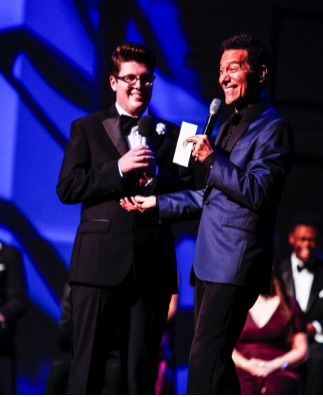 Caleb Freeman, the first grand prize winner in the Songbook South High School Vocal Competition, places second and earns the title of Celebration Award Winner at the Michael Feinstein Great American Songbook High School Vocal Competition in Carmel, Indiana on July 22, 2017. Caleb thrilled the audience with his renditions of "I'm Old Fashioned" and "Who Can I Turn To", and was a fan favorite throughout the week of the preperatory Songbook Academy.
This wasn't Caleb's first stint at the Songbook Academy. He was a national finalist the previous year at the Songbook Academy, winning the Songbook Spirit Award.
Caleb's recent win affords him the opportunity to perform with Michael Feinstein.
Studio Member Caleb Freeman Wins Second Place In National Initiative
Nia Savoy, the muse of Songbook South and our first regional Michael Feinstein Songbook Academy winner, has won another major competition Friday, March 23rd at the Kreeger Theater in Washington D.C. Sponsored by The National Society of Arts and Letters and The American Pops Orchestra, Savoy was one of 10 finalists, chosen from hundreds of applicants, who performed with a Jazz combo before a live audience judged by a variety of entertainment industry luminaries: Jim Caruso (Birdland Jazz Club), Baayork Lee (Tony-winning Broadway Legend), Kelly d'Amboise (Signature Theater and APO Resident Director) and Robert Pullen (Emmy nominated Producer and owner of Nouveau Productions). Savoy treated the audience to stunning performances of "Solitude" by Duke Ellington and "Cash for Your Trash" from the musical Ain't Misbehavin'. With her first place win, she received a $500 cash award and has been guaranteed a mainstage performance in the 2018-19 American Pops Orchestra season.
Miss Savoy is not new to the national winner's circle. In 2015 she won the national Young Arts Jazz Vocalist award that led to her being selected by Mikhail Baryshnikov to appear in a production he directed in New York City.
In 2014, Savoy won the national Great American Songbook Inspiration Award at the Michael Feinstein Great American Songbook Initiative Vocal Competition held at The Palladium Center for the Performing Arts in Carmel, Indiana.
Miss Savoy's convincing and expressively forceful performances continue to bring her considerable acclaim from industry professionals that have led to a flood of performance opportunities still pending as of the writing of this notice.
Studio Alum Wins Another National Prize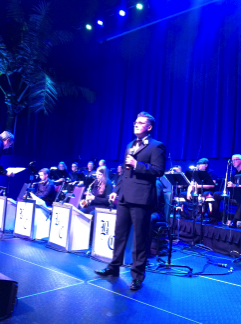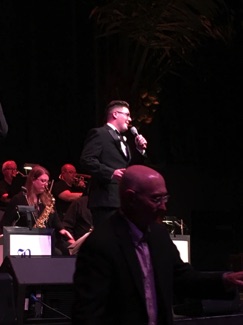 Award-winning vocalist, Caleb Freeman, performed with The Bill Causey Big Band at Margaritaville Resort Casino, Bossier City, on May 22nd to much acclaim! Now, he's coming back for an encore engagement!
Come enjoy Caleb's performance as he croons and swings through selections of the Great American Songbook with a fantastic 20-piece big band.
Caleb Freeman headlines with
The Bill Causey Big Band
Tuesday, August 7th
Paradise Theater
Margaritaville Resort Casino
6 p.m. - 8:30 p.m.
CALEB FREEMAN SCORES ANOTHER GIG WITH THE BIG BAND!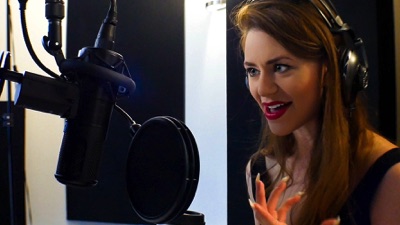 Bridget's a New Yorker, Now!
Our favorite belter, Bridget Winder, has moved to New York and will, no doubt, be a Broadway star in no time. Meanwhile, she is working on a new bi-costal movie project called A Fairy Tale After All which, of course, involves Bridget singing with those platinum pipes. According to IMDB, "A teenage girl finds herself confronted by whimsical characters when she is transported into a world of fantasy and fairy tales while attending a school marionette show. She comes to realize her own imagination has an adventure already scripted for her that carries more wisdom than she could ever find alone in the real world." Sounds right up Bridget's alley! We can't wait to see the film and hear about the next big city adventure!
Break a leg, Bridget! We love you!
From national commercial campaigns to film, studio alumnae, Isabella Fowler has been very busy, lately! Modeling, Acting, Singing. She has been working on several projects in LA including her recent film Famous Little Girls where she plays Young Coco Chanel. It is for this project that she has racked up several awards from several film festivals, among them, Best Supporting Actress in a Film from the Mindfield Film Fest. Famous Little Girls will be released on Amazon in August!
Outstanding work, Isabella! We are proud of you!